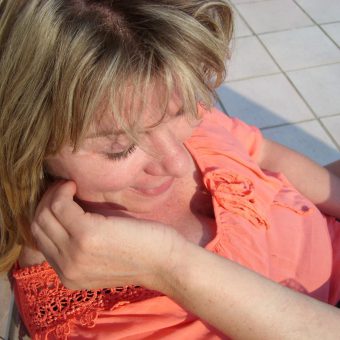 Beautiful, something really special!
I did not know what to expect from this 5-day Yoga retreat, being a complete beginner in Yoga, meditation and new to vegetarian food.
What I did know is that I needed to distance myself from the daily obligations and that I really had to boost my energy level.
This goal is fully achieved !! It was a beautiful learning experience and I came home with many tips that I can apply at home.  The amazing surroundings (mountains) and the stay in the old "finca" have something magical and immediately bring you at peace. The program is very varied and well balanced between activities and 'free time', although you are obliged to nothing.
All this can only come about with the right people, certainly a double big thank you for Ilse and Tiziana !! We were constantly pampered by these beautiful ladies, they were always available for all kinds of practical matters but also for a good chat.
I thoroughly enjoyed the Yoga sessions and it will not be easy to find a Yoga Teacher here that s as good and passionate as Ilse.
She has attention for everyone.  Tiziana has spoiled us with her creative, delicious cooking skills and her beautiful personality. We also enjoyed her rich knowledge about Buddhist practices. I could easily stay a few days longer 🙂
This  is highly recommended !! The atmosphere in the group was also very good, very nice people. Each with her/his own story and background, occasionally a tear (emotions) but especially a lot of laughter.
It is amazing how we have opened up to each other in such a short time, very beautiful.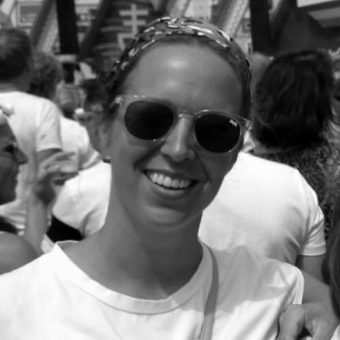 It feels like a beautiful gift!
In May of this year (2018) I followed the 5 day Viva la Vida yoga retreat.
I needed some rest, some time for myself and was looking for new, positive energy.
I completely succeeded with Ilse, the other people and Alejandro. It really feels like a gift!
These 5 days were really great. The location is beautiful, in the mountains with beautiful views of the valleys.
The accommodation in Cortijo Pulgarin Bajo is great, authentic, with beautiful gardens. Alejandro has cooked delicious for us, it was every time a party to see what was put for delicacies on the table. Healthy and so many different flavors.
The program was perfect. A lot of variety due to different types of yoga, in different beautiful places (in the gardens, on the beach, on the mountain and in the old mill), a singing session, a walk, a cooking workshop and a massage. In addition, every day some time for yourself.
I also found it very special to see how easy contact was made within the group and how quickly everyone opens up. Without any obligations, by the way, you did not feel like talking and you wanted to relax, then that was fine too.
And 'last but not least', Ilse .. the wonderful yoga classes, the conversations, her enthusiasm, her ability to switch quickly. Gracias Ilse! And especially continue to spoil people with your retreats!
At the moments when we did yoga exercises in the garden or on the beach and I briefly let the environment work on me and the wind was blowing, I was completely 'happy'. I have taken this feeling home and hope to hold it for a long time.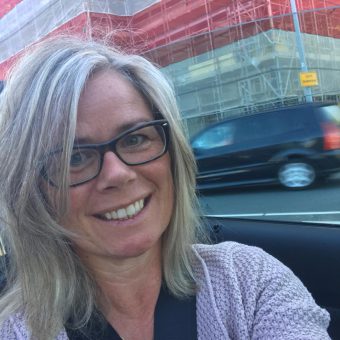 I really have great memories to this special retreat.
For a long time I was looking for a destination with a combination of tranquility and activities that would make me forget all my daily worries and at the same time give me a boost in my recovery process after a car accident.
All compliments to Ilse because it brought me all of that and more!
In a beautiful setting in Andalusia, Ilse knows how to create the peace and relaxation you need. 
The program is very varied and the yoga and meditation sessions are given in beautiful places such as on the beach and in the mountains.
And then the food …. Tizana cooked the most fantastic dishes every day with love. Particular to have such a nice time with, for me, 8 unknown ladies.
This retreat gave me many useful tips for daily practice.
I can wholeheartedly recommend the retreat at Ilse and hope to be able to experience it myself.
Ilse, thanks!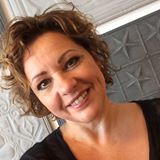 I hope I can come back again next year!
After a hectic year, I had a huge need to go on holiday alone in search of peace and relaxation. While searching, I ended up with Ilse from Viva La Vida. I booked the Viva La Vida yoga beach retreat.
I thought it was quite exciting because I had never been alone on vacation before. I was a bit nervous that I would spend a week with strangers and do things I had never done before.
But it was great fun!  Ilse is a beautiful person! She is very caring and interested in everyone, she is very positive in life and knows how bring that positive energy on us as well. She is very passionate and super enthusiastic.
The group was very nice, the surroundingst are amazing, the accommodation beautiful and the food very tasty.
Only during the SUP boarding I became seasick 🙁 you can't believe it:).
Now, a few weeks later I feel so much better, it has done me a lot of good, and I will certainly continue to do yoga!
It was a great fun week and if possible, I'll be back next year!
Thank you Ilse and everyone else who took such good care of us, it
was a week to remember!
X Miranda
Ilse-Marie is a very passionate yoga teacher!
I really had some wonderful days with Ilse-Marie. What a passionate yoga teacher! She is a wonderful hostess who pampers her guests and knows what they need. She inspired us all with plenty of suggestions for a life without stress. Thanks !!
Hester, 50 jaar uit Goes
Viva La Vida: it says it all!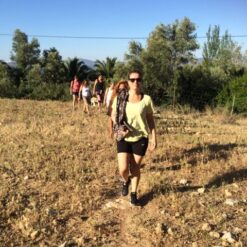 How amazing to live 5 days in a totally different, beautiful and peaceful environment.
The combination of yoga and meditation in such a beautiful environment was for me a totally new experience.
This feeling of peacefulness and rest was really special.
The combination of Ilse's professional yoga sessions, the warmth and  care of Ilse and her husband Jeroen, the massage of Toni and the special surprise sessions
Ilse professional yoga classes with the proper care during the five days from her and her husband Jeroen, massage and even some surprising sessions made this 5 day Yoga retreat complete and unforgettable.
I will go back for sure!
Peggy Kleverlaan
Wonderful! What an amazing experience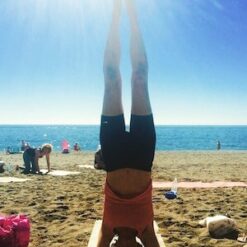 For me it was the first experience with yoga, meditation, Andalusia and Ilse. Just to say it in one word: amazing!
It is difficult to describe in words what happened there, not only with me but with everyone.
Ilse knows how to give her guests the warmest welcome. She has this beautiful location. The wonderful chef  Alejandro who makes delicious healthy meals.  His love and passion for cooking is obvious and you really taste this!.
The program is very diverse and very fascinating. If you combine this with the enthusiasm and humor of Ilse and even the most sceptic beginning yogi starts to develop a passion for yoga. After 5 days I was hooked:)
The different styles of yoga and meditation techniques that you learn make the program very special and creates something for everyone. Whether you are doing yoga for years or an absolute beginner like me.
There is such a loving and relaxed atmosphere, that you just really want to come back and book another retreat with Ilse.
Joleen Heymeijer
The area is exceptionally beautiful; it starts with the road to the retreat. It makes you completely relaxed and let you escape from your busy life straight away.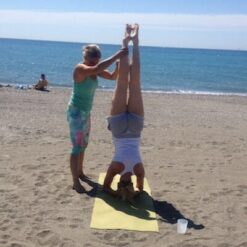 The olive oil farm is a very nice Retreat location; intimate and yet plenty of room to chill and go your own way.
The peace and serenity in and around the location was beautiful . And with a car you can easily go to a lot of interesting places nearby.
The program is nicely balanced with room for your own initiative.Ilse knows very well what the needs of the group are and leaves room to whether or not to participate in an activity.
At first I was a bit worried that the yoga sessions would be too much (I was still very stiff haha) but after every session I felt so great. The yoga sessions were not too difficult, even though  I did not do yoga for a long time. The Meditations were great!
I need to like the voice of someone in order to be able to relax completely and to be able to meditate. I really liked the soothing voice of Ilse-Marie.
The silent walk was very nice (It felt a bit like coming home) and the yoga session in the mountains was also very special to me.
And not to forget the Yoga excursion to the beach: this was great! What a beautiful place; it gave me an immense feeling of freedom, vacation and relaxation.
Also the food was GREAT! I have some things home made again. Congratulations to Alejandro
Thanks!
Nicole
The group felt so familiar and at ease
For me it was the first time I have experienced such a retreat in this form and capacity. I can only say that I was very pleased. The group was amazing right from the start. Ilse and her husband have this wonderful ability to put you at ease instantly.
From Ilse, you get nothing but positive energy.
The most important thing I've learned is what really matters this life: Letting go and being in the now.
Ilse shows this through themed yoga & meditation sessions, beautiful workshops and excursions and a very special silent walk. You become  aware of what you do have instead of what you don't have "Count your blessing."
I will recommend everyone to experience this amazing retreat.
Ilse will give you amazing new insights in a nice and casual way.
I am very happy that I was able to experience all this as my first experience of retreat. I liked it so much that I have gone twice to their Viva La Vida Retreat.
Keywan Oveisiypur, Rotterdam
This retreat has exceeded my expectations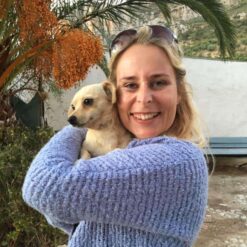 It started with a nice contact with Ilse via whatapp and email. The warm welcome by Jeroen at the airport.
After that I was pleasantly surprised by the beautiful nature, and authentic accommodation, the healthy but very tasty food, the great yoga sessions and the really nice people.

Ilse creates with her integrity and passion an atmosphere that makes people feel at ease straight away and that you want to open your heart.
There was a lot of fun, but tears were welcome as well.
The elements of the program are optional, which gives you a great sense of freedom. Therefore these 5 days really felt like a holiday.

Do not hesitate, just do it!
Fanneke Oomen
Yoga in nature, what a lovely experience!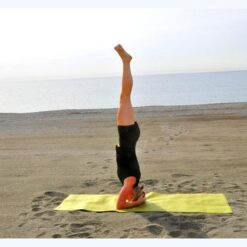 Ilse is a very good teacher with a lot of passion and love for yoga. She can also easily adjust exercises for beginners and more experienced yoga practitioners. Each yoga session lasts an hour and a half which is a big plus because there's plenty of time for relaxation. I have become quite a yoga fan by Ilse and started to do yoga daily. 
An dehandschutter, Spanje
This yoga retreat was for me one of the best weeks that I had in the last 5 years!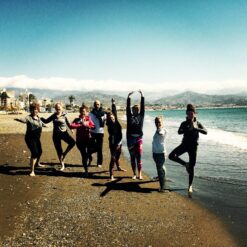 I will always remember this perfect combination of fun, activity, connectedness and health.  I felt  immediately at ease when I got to know the others during the first delicious lunch.
During the retreat  anyone could go heror his own way and at the same time there was also plenty to do.
Ilse-Marie arranges everything to the last detail.
The beautiful surrounding area is worth a visit in itself.
I can highly recommend this retreat to everyone!
Martine Dekker
Ilse-Marie has a very pleasant and relaxed way of teaching.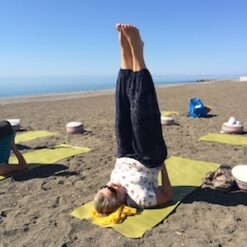 She has this calmness or peacefulness around her, while on the main time she is so passionate while teaching. She explains things clear and knows a lot to tell about the background of yoga. I often have pain in my back and neck and she has helped me with some practical exercises to reduce the pain. The yoga sessions outside with the sounds of nature were an unforgettable experience. I'm following yoga classes for several years, but learned a lot of valuable new things. I really like the way Ilse-Marie teaches yoga and I will definitely come back.
Jeanny Ruijters, Maastricht
After 5 days I came back full of energy and recharged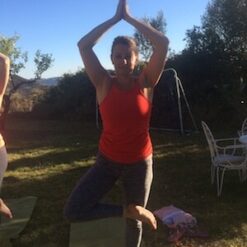 The great location in the Andalusian mountains, the lovely group, super tasty food and nice yoga and meditation classes  of Ilse gave me a huge energy boost.
As a beginner, I have learned a lot in one week. Ilse has inspired me!  Since I'm back home I start everyday with a few sun salutations and I started regular classes.
Ilse created a very special atmosphere where people felt safe and relaxed. I'm sure I will  book next year again.
Thanks!
Sonja Theuws
This retreat is for me a very special memory..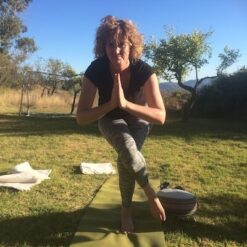 About the Retreat location: great accommodation, clean and good beds in a beautiful setting, peaceful and quiet.The garden with palm trees with the hammocks is super!
I am looking back with very sweet memories!
Thanks!
Claudia Pastor
I had a great time! What a beautiful location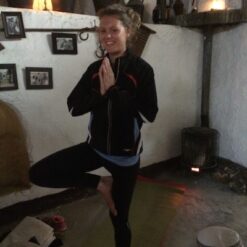 I really loved the accommodation!  The buildings of the old cortijo have a lot of atmosphere and give you an intimate feeling. The  tropical gardens I liked a lot, because there were nice places everywhere to relax in the shade or in the sun.  And the views are really fantastic. The program was well balanced. You have the freedom to relax and do your own things while there was enough time with the group as well. During the yoga sessions  I liked it that it was quiet and that there was a lot of repetition so that you can learn the poses properly. Ilse has a nice voice to listen to.
The yoga session on the beach was also superb.  I found the food very tasty and nice to see Alejandro cook with so much passion. Tasty fresh vegetables and creative meals. It was great!
Susanne Dekker, Den Haag
Yoga with Ilse was such a refreshing experience!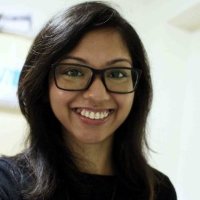 She was very fluent in all the languages needed to conduct the class and was able to instruct different people according to their abilities in a way that didn't disrupt the flow of the class. I am rather new at yoga, despite dabbling with it throughout university. Ilse was able to foresee potential problems I may face and gave very clear instructions on how to manage any potential obstacles in my practice. She made yoga so accessible to someone so stiff! It was also very nice that she led us through various asanas that I might not have tried on my own. The class progressed at a comfortable pace and before I knew it, I was attempting a shoulder stand! Many yoga classes in Singapore are rather large and you don't get feedback on your own alignment. I really appreciate Ilse's patience and her attention to each student. Thank you Ilse! I wish I could take more yoga lessons with you!
Nurhayati K., Singapore
Wonderful relaxing days in a beautiful setting.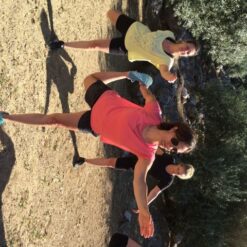 Wonderful relaxing days in a beautiful setting.
Lots of variety of yoga, meditation and other activities, but as well enough time to relax. I gave me a peaceful mind when I was in between 2 jobs. I was completely rested and energized when I returned home.
Ilse does everything with such a passion and fun. This makes it an experience that I can definitely recommend to anyone ( for beginning and advanced yogis). For everyone that wants to enjoy the magical serene surroundings. I had such a relaxed days in this beautiful setting.
Anouk Reintjens, 39 jaar Amsterdam
I would love to go back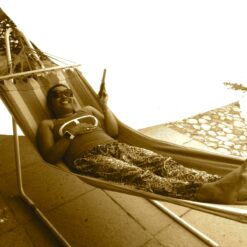 I would love to go back!
An idyllic location, the program has a good balance between  group sessions and time for yourself.
Ilse has this ability to sense what the group needs and is able to create a fun and very relaxed atmosphere.
Ilse inspires absolutely!
Yoga sessions are also suitable for beginning yogis.
The environment is really beautiful, serene and peaceful.
Doing yoga on top of the mountain and overlooking the villages is really relaxing and soothing.
The most fun experience I found the yoga session on the beach.  The sense of freedom that you experience on this beautiful beach is really  special.
As well the tasty food and our relaxed outdoor eating sessions make a Viva La Vida yoga retreat a truly unique and beautiful experience.  I would definately book again!
Sisca Hoek, 40 uit Delft
It was my first experience with a yoga retreat but it was unforgettable!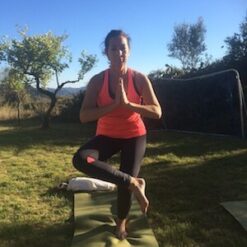 The days in Alfarnatejo have had a very positive influence on my life.  It gave me a calm mind, relaxation and new energy, but this retreat brought me many new insights as well.  I am very grateful for what Ilse-Marie and her team have done!
Every aspect of this retreat is just right; the preparation and warm welcome, the great location and beautiful surroundings, amazing yoga and meditation sessions, the delicious food of Alejandro. Very special was the personal and professional approach of Ilse-Marie and the natural way she guides the group and the attention she has for you as an individual.
Everything is full of energy, love and vitality.
As often with special experiences, it is difficult to explain to someone else what makes it so special.
I can only say go experience it for yourself!

Renate Hogers
Fantastic location, magnificent views! What a tranquility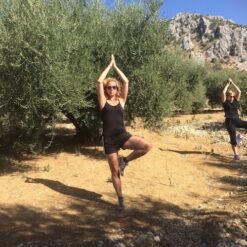 Dear Ilse-Marie,
I really enjoyed your wonderful Viva la Vida Retreat.
What a stunning setting and magical serene place.
Thanks for your great yoga and meditation classes, that you adjusted perfectly to the level of the group. .The Yoga nidra session under the stars was WOW! Passionate.You have a lovely voice to listen to.
I really enjoyed your enthusiasm, the program with the special workshops and plenty of rest and space for yourself.
And of course the delicious and pure food prepared by Alessandro . And not to forget the personal approach of Jeroen.
Thank you all!.
I will definitely recommend your retreat to others!
Love Judith
Judith Thijssen
Surrounded with the best care, healthy and surprising food and staying in a breathtaking place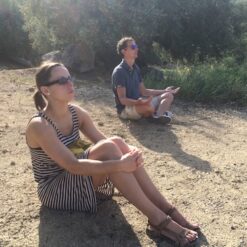 For all those who wish to submerge themselves into yoga and meditation, while being surrounded by mighty mountains, beautiful nature staying in an authentic and idyllic location, this yoga retreat with Ilse from Viva La Vida is an absolute must!
The program is varied but leaves plenty of room for personal interpretation or just to do nothing and relax completely.
Ilse yoga classes are  really nice and long with a good combination of flow and relaxing moments.
I'll definitely come back again!
Karlien Heremans, Antwerpen
For me staying with Viva la Vida was in one word FANTASTIC !!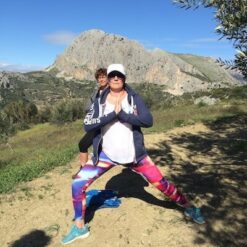 Ilse-Marie and Jeroen are amazing, warm and lovely people. But I had as well a real connection with my fellow yoga-goers. Just escape from the rat-race where we all live in, and come to Andalusia to relax completely.
I returned reborn and completely zen to Belgium!
And not to forget, the super chef who makes these delicious & healthy meals!
Thank you lovely people that I could stay with you for these 5 days. It was really SUPER !!
Jolanda Verachtert-Brandsma
Your personal attention and genuine interest in everyone makes it very special.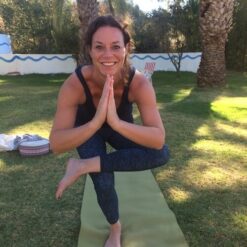 "Viva La Vida" basically says it all .. .. 5 amazing days on a a great location in a beautiful setting.
The retreat is very diverse and has the perfect balance between yoga, meditation, workshops and relaxation.
This combined with the love, care, passion and personal attention that Ilse, Jeroen and Alejandro give you and you go back home with a big smile and full of positive energy!
What a great experience!
When  can I go back?
Tanja op den Kelder
I will definitely book again !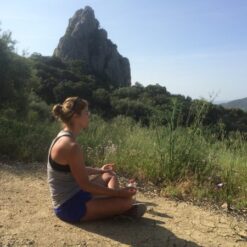 As an entrepreneur I am very busy.
I wanted to unwind and relax and I had great interest in yoga and meditation. And where can you better dive into yoga and meditation than under the Spanish sun?
This beautiful location felt directly as coming home.
A old cortijo has these beautiful charming  rooms, amazing gardens, and a lovely pool.
And what a setting; the best views of Andalusia!
The sessions Ilse-Marie were perfect for me. Through the devotion, personal attention and passion of Ilse-Marie I came quickly in the proper flow of yoga and meditation. But as well the delicious food, the beach visit, the relaxing in between sessions (book certainly a massage) make the retreat a must.
Anyone involved in this yoga retreat is doing it with so much with passion, that it makes the retreat really special and personal. Whether you are completely familiar with yoga or a beginner like me, after you returned from the retreat you are totally relaxed and you will love yoga and meditation.
I will definitely participate again!
Martha Delcliseur, 31 jaar.
When I get the chance I will go back again!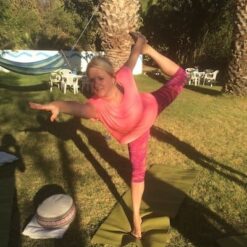 This retreat is like a very special present for yourself, Everything was really well organized.
The meals are vegetarian / vegan, but if you think it makes it boring, you are wrong! We got served these huge colorful and flavorful meals. Alejandro the chef prepared this everyday with so much love!
We did the Yoga sessions on beautiful spots in the natural surroundings of southern Spain.
Ilse-Marie creates a new themed session every time which offers a lot of variety. You learn a lot of yoga poses in a short time.
Furthermore you will learn many ways to relax.
It is the perfect way to escape from the everyday hustle and bustle!  The music used is wonderful and hugely relaxing. You will notice that Ilse-Marie with her warm personality, love, care and personal attention does everything to make sure your week is perfect!
The retreat is very inspiring and makes you feel like you've been gone for a month!
As soon as I get the chance, I go again!
Sandrine Kwast
This retreat is a beautiful gift to yourself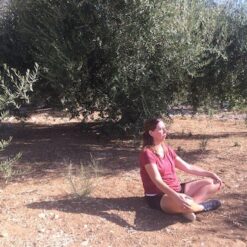 This retreat is a beautiful gift to yourself
You receive a very warm welcome when you arrive in the beautiful finca in this magical place close to Malaga.
The yoga and meditation sessions are take place in the open air, which gives you a great feeling of space and rest. The beautiful and loving Ilse-Marie connects all participants and elements of the retreat together.
Her passion and love for yoga makes her  a very passionate teacher, who has special attention for everyone.
Even in the food, prepared by Alejandro you taste power and energy.
I think back with very warm feelings to these wonderful, loving days. It was truely was amazing.
It was a great gift that vibrates at a soul level.
I said good bye with a grateful heart.
Namasté!
Good luck Ilse-Marie and thanks for everything.
See you next time.
Monique Schleicher
I will never forget this yoga retreat!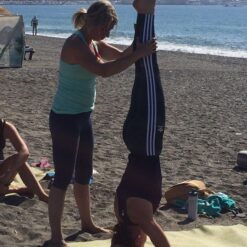 From the first moment I had a great feeling about the email contact with Ilse. She and her husband Jeroen are really warm and enthusiastic people.
The location in Alfanatejo is idyllic, what a view! Just being in this place makes your mind quiet straight away.
The yoga sessions are a wonderful combination of Yin, Hatha Vinyassa, Kundalini and Ashtanga yoga. We had our yoga sessions not only in the beautiful gardens, but also on the beach and even on top of a mountain.
If you like vegetarian food, you're in the right place.  Alejandro, the chef has a tremendous passion for the vegetarian cuisine.
Furthermore we had a couple of really special workshops from guest teachers.
I can really recommend this retreat!
Lidia Barberio, 38 jaar
This yoga retreat has been on of my best decisions ever!
What did I enjoy those wonderful retreat days! I feel it in every fiber of my body and heart.
It has brought me so much. The environment, the people, the yoga, the atmosphere, the food … It's like a dream! I will always cherish the experience. And it is reflected in my daily life back home. The retreat with Ilse-Marie is one of my best decisions ever.
You receive everything what's promised, but it's worth so much more! Ilse-Marie is a special and compassionate woman. She has a lot of joy, wisdom and knowledge that she shares with love.
The personal approach makes it really unique. Ilse-Marie feels what everyone needs. She is also part of the group while she still has this natural leadership. She has this gift to create an atmosphere in which totally different people feel at home straight away and connect. We did the amazing yoga, meditation and breathing exercises when possible outdoors in the beautiful tropical gardens, on the beach and in the  mountains. The environment is so magical with such a breathtaking views that you experience a constant feeling of happiness. The food is so delicious, full of flavor and pure. I want to return again !!
Liliane van den Heuvel, Amstelveen
The massage was a very special experience for me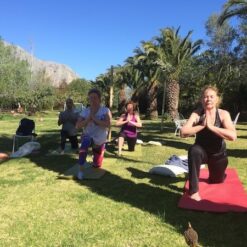 Dear Ilse,
What a great time did we have!
With you,Alejandro and our nice fellow retreaters.
Toni's massage was for me a very special experience. She knew to find my sensitive spots.
in April we have had some cold nights  with thick blankets.  But I enjoyed the old farm with the nice wood fire, the gardens with the beautiful views, the yoga sessions, healthy food and the commitment of everyone.
There was literally and figuratively space to go, let go or keep something for yourself.
Thanks!
Cora Aafjes