De 5-seconden regel van Mel Robbins
Vaak zijn het juist de simpele veranderingen die een enorm grote impact kunnen hebben op je leven.
Zo hoorde een tijd geleden een speech van de inspirerende coach/ motivator Mel Robbins de tip om de 5-seconden regel toe te passen.
En daarmee bedoel ik niet de 5-seconden regel waarmee ze zeggen dat je eten dat op de grond valt, je het binnen 5 seconden op moet pakken, om het nog te kunnen eten:)
Wat is de 5-seconden regel?
Mel Robbins zegt daarover het het volgende:
If you have an impulse to act on a goal, you must physically move within 5 seconds or your brain will kill the idea.
Dus zodra je een idee hebt moet je gelijk starten. Anders beginnen je gedachten zich ermee te bemoeien waardoor je het uitgaat stellen of  het zelfs helemaal niet doet!  Dus gelijk actie ondernemen, en niet uitstellen
Dat je dingen die je heel graag wil niet voor elkaar krijgt heeft niks te maken met motivatie. Het probleem is dat wanneer je je brein de kans geeft erover na te denken, het met allerlei argumenten komt waarom actie niet nodig is.
De 5-seconden regel van Mel Robbins is dus een truc om jezelf van de automatische piloot te krijgen.  Als je aftelt van 5 tot 1 en dan meteen actie neemt, geef je je brein geen kans en onderbreek je het automatisme.
Simpel voorbeeld: in 5 tellen opstaan, zodat er geen ruimte meer is voor de snooze knop. Simpel en heel effectief.
In deze inspirerende video legt ze het verder uit.
Meer weten? Ik kan je ook zeker dit boek aanraden van Mel Robbins. Het is een internationale bestseller op het gebied van life hacks en praktisch levensadvies.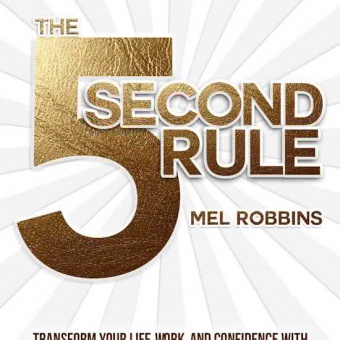 The 5 Second Rule – Mel Robbins 
Deze internationale bestseller is heel erg inspirerend!